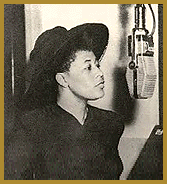 Even if Ella Fitzgerald had never sung a note after her first mentor, Chick Webb, died in 1939, her stature as a legendary artist would be assured. Fitzgerald spent a total of six years with Webb's band based at Harlem's Savoy Ballroom - four in which she was the band's star and an additional two in which she also served as its leader. During that time, Fitzgerald, no less than Webb himself, became a very special folk hero to the people of Harlem. Supposedly Webb began playing drums as a child to distract himself from the torment of his affliction; it's not known if he relieved his own pain but through his music he made millions of others feel a whole lot better. Both he and Fitzgerald became symbols of how much one could achieve. Being born poor and black (and in Webb's case, handicapped since infancy) was no longer an excuse that one could not attain the upper reaches of fame, and also make music that would last forever.


At the same time, the Webb band, the Savoy and the swing band idiom itself imposed severe limitations on Fitzgerald's artistry - and she could not break through to worldwide acceptance until she overcame these restrictions. The documented evidence, the 114 recordings Fitzgerald made for Decca in her big band years 1935 to 1941, show no sooner that was she coronated Queen of the Savoy than did she begin to conquer territory far beyond that ballroom's domain.


Fitzgerald's reign over Harlem began with a single dramatic event: when she won an amateur contest at the Apollo in 1934, she not only established herself as a coming vocalist but that theatre as the primary starmaker of black showbusiness. The incident has been told and re-told so many times, primarily because it may be the most dramatic occurrence in Fitzgerald's life (it would have been the least dramatic in, say, Billie Holiday's), that one can almost imagine it as a TV movie of the week with Diahann Carroll in the lead.



This site rescued by media.org.