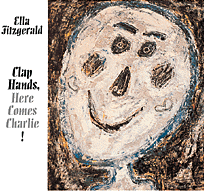 Ella Fitzgerald has no competition. The most universally admired popular singer in the world, she represents one of the fortunate cases when talent translates into popularity and productivity. Still, the obvious peaks of her mountainous recorded output, the Songbook series and the live albums (which, it's pleasant for once to report, are just as popular today with the mass-market audience as they were 30 years ago), loom so large that they obscure the equally interested activities going on in the nooks and crannies. Fitzgerald went into the studio quite often to record albums with no particular theme, both with major arrangers as collaborators (Nelson Riddle, Marty Paich, Frank DeVol) and with small groups. Though bereft of a marketing hook, albums such as Ella Swings Lightly, Brightly and Gently (three LPs), Hello Love and that completely overlooked apex of class singing, Let No Man Write My Epitath prove that the lady requires no such song-to-song connection to sustain interest and even astonishment for twelve tunes in a row.


Clap Hands, Here Comes Charlie, a collection of tunes with varying degrees of jazz relevance has (ever since 1961) been just about the most treasured by Ella-vationalists (the voice and guitar passages of "Spring Can Really..." preface her later collaborations with Joe Pass). We're already greatful to Phil Schaap, that hottentot potentate of hot history, that Rhodes scholar of rhythm, for unearthing such examples of Ella-mental excellence as a previously unknown session with Charlie Parker and the already classic Ella in Rome album. Now Phil has divined the secret of this particular set, and found that not only were there three sessions with Ella and Lou Levy in Los Angeles that had already been listed, but that some of these tunes were actually remakes from an earlier session in New York, with a different rhythm section. And as an excuse to force the Compact Disc medium on those straggling few of you who remain uncoverted, the CD version of this reissue includes no less than three new tunes from that New York session that she didn't get around to remaking (though there is a live version of "Start of Something Big" on the Ella in Hollywood set).


Ever as emotionally deep as she is swinging, her voice brimming with contagious, enthusiastic energy, her pitch perfect and her time beyond reproach, I think she's modestly misdirected the proper recepient of applause: we should be shouting, "Clap Hands! Here Comes Ella!"
1
Night In Tunisia (4:06)
(Gillespie/Paparelli/Hendricks)
2
You're My Thrill (3:35)
(Gorney/Clare)
3
My Reverie (3:16)
(Debussy/Clinton)
4
Stella By Starlight (3:17)
(Young/Washington)
5
'Round Midnight (3:28)
(Hanighen /Williams/ Monk)
6
Jersey Bounce (3:33)
(Bradshaw/Johnson/Plater/Wright)
7
Signing Off (3:45)
(Campbell/Travers/Hassan/Virtue)
8
Cry Me A River (4:13)
(Hamilton)
9
This Year's Kisses (2:14)
(Berlin)
10
Good Morning Heartache (4:17)
(Drake/Fisher/Higginbotham)
11
(I Was) Born To Be Blue (2:42)
(Torme/Wells)
12
Clap Hands! Here Comes Charlie! (2:41)
(Rose/MacDonald/Meyer)
13
Spring Can Really Hang (6:13)
You Up The Most
(Wolf/Landesman)
14
Music Goes 'Round and Around (2:27)
(Riley/Farloy/Hodgson)
*15
The One I Love Belongs (2:12)
To Somebody Else
(Jones/Kahn) previously unreleased
*16
I Got A Guy (3:43)
(Sunshine) previously unreleased
*17
This Could Be The Start (2:43)
Of Something Big
(Allen) previously unreleased

Selections 1, 3, 5, 7, 8, 11, 12 & 14 Recorded Los Angeles, June 23, 1961
Selections 2, 4, 6, 9, 10 & 13 Recorded Los Angeles, June 22, 1961
Selections 15-17 Recorded in NYC, January 23, 1961