ELLA FITZGERALD, 1917 - 1996
A tribute by Will Friedwald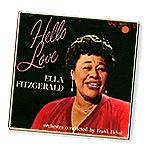 In 1951, arranger and vocal coach Hal Schaefer was faced with a daunting proposition.


The pianist was then working for 20th Century Fox Pictures, and the studio was about to cast their newest starlet, Marilyn Monroe, in her first musical, Irving Berlin's There's No Business Like Show Business. Schaefer was saddled him with the difficult, albeit pleasant, task of helping this nonmusical bombshell sing her way through two numbers. His first move? He went out and bought his pupil all the Ella Fitzgerald records he could get his hands on, and instructed Monroe to listen to them as often as she could.


Ella Fitzgerald simply is what great pop singing is all about. If you need a reason why it's worth all the trouble to develop a beautiful voice, achieve perfect intonation, a flawless sense of rhythm, concentrate on the great American songbook and work with the best musicians, you need look no further. Schaefer's plan worked even better than he intended; not only did Monroe become a devotee of the "First Lady of Song," but with Fitzgerald's inspiration, she became a more than passable musical comedienne. Fitzgerald is the best possible example of how singing popular songs and jazz can be a great art - this, in fact, is as good as music gets.


Fitzgerald has similarly inspired thousands of subsequent singers, many more musically illustrious than Miss Monroe. As Carol Sloane puts it, "She taught me my ABCs: intonation, diction and swing." Like Frank Sinatra, her contemporary and great friend (as of 1996, they have both unofficially retired), Fitzgerald's body of work has long since reached the point where it's more than a collection of well-remembered songs and albums or even a lifetime of concerts. Rather, Fitzgerald and Sinatra, no less than jazz's major composer-bandleaders, are great auteurs who have each developed their own entire stylistic universe. And as with Duke Ellington and Thelonious Monk, it's possible to pay homage to these artists by gathering their colleagues and successors and bringing them into the Ella Fitzgerald universe.

This is what will be going down in Carnegie Hall (which Fitzgerald first graced with her presence in 1947 and returned some 25 times) on July 9 and 10, 1996, in a two-part celebration which will feature many of Fitzgerald's most swinging descendants, such as Miss Sloane, Ruth Brown and Chris Connor, along with many of her key collaborators, such as Tommy Flanagan, Herb Ellis and Sweets Edison.


Unlike any other singer you could name, Fitzgerald has the most amazing asset in the very sound of her voice: it's easily one of the most beautiful and sonically perfect sounds known to man. Even if she couldn't do anything with it, the instrument that Fitzgerald starts with is dulcet and pure and breathtakingly beautiful. As Henry Pleasants has observed, she has a wider range than most opera singers, and many of the latter, including Dietrich Fischer-Dieskau, are among her biggest fans. And the intonation that goes with the voice is, to put it conservatively, God-like. Fitzgerald simply exists in tune, and she hits every note that there is without the slightest trace of effort. Other singers tend to sound like they're trying to reach up to a note - Fitzgerald always sounds like she's already there. If anything, she's descending from her heavenly perch and swooping down to whatever pitch she wants.


Her relationship with song lyrics, too, is more complex than it might seem on the surface. It's true that she rarely concerns herself with the ironies and innuendos of the libretti that she sings, but that's only because she doesn't have to. Unlike most stewards of the great song tradition, Fitzgerald is rarely an actress, yet without putting on any act whatsoever, she's nonetheless one of the major interpretors of Tin Pan Alley. Before Fitzgerald, the songs from Broadway shows were generally treated in relationship to the context of the show itself - a caberet singer doing "Summertime" would, in effect, act out a scene from Porgy and Bess. Fitzgerald proved that the songs can stand completely on their own. Complementing this, there's an optimistic innocence to everything she sings, yet, like admirer Tony Bennett, she's never niave.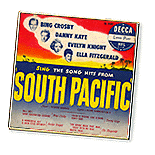 And no musician has ever displayed more emotional warmth.


Here was a singer who first attracted attention with the most simplistic of novelties, beginning with her own nursery-rhyme based "A Tisket, A Tasket." Yet she went on to perfect the songbook album and, along with Sinatra, define the high end of great American pop music. That same diversity has given her career much of its impetus: in her Chick Webb days, she was part of the first generation of swing band "girl singers," and practically defined swing singing. Ten years later, she became one of the first big stars of jazz not only to champion the new music known as bebop but to actually sing it.


It would be hard to think of any other singer who has travelled so far across the musical map: collaborations with Duke Ellington, Count Basie, Oscar Peterson, Louis Jordan, Roy Eldridge, Nelson Riddle, The Mills Brothers, Billy May and accompaniments ranging from a full symphonic orchestra to just Joe Pass's guitar; albums of blues and albums of bossa nova; pop Christmas songs and sacred Christmas songs; Gospel and calypso. As this inventory shows, the woman who gave us the songbook is hardly a musical elitist: For her, a rhythmic bauble like "Perdido" is to be treated just as profoundly as "Bewitched, Bothered and Bewildered" or any of Lorenz Hart's most intricate texts. By the '70s in particular, Cole Porter had to fight The Beatles and the theme from "The Love Boat" for space in her repertoire - and she made them all sound equally terrific.


Fitzgerald not only sings lyrics, she can transcend them. Blessed with a flawless command of the beat and an almost magical ear for harmonies, Fitzgerald even surpassed her original inspiration (and occasional recording partner) Louis Armstrong as jazz's greatest scat singer. Surely there's no other vocalist who can stand up on stage and spin chorus after wordless chorus of spontaneous melodies without ever repeating herself or tiring her audience. Over the course of her 60 years in the spotlight, Fitzgerald's extraordinary scat extravaganzas have come full circle: her earliest wordless features, like "Smooth Sailing" and "Flying Home" were inspired by tenor

sax stars Arnett Cobb and Illinois Jacquet. These days, musicians copy her: Mel Torme has canonized Fitzgerald's solo on "Lady Be Good" and the Carnegie Hall Jazz Band has orchestrated her improvisation on "Lemon Drop."


Simply put, Ella Fitzgerald is the best friend a melody ever had. The first time I ever interviewed Tony Bennett, about ten years ago, he was supposed to be talking about his new album, when the singer suddenly stopped in the middle of a sentance. "Ella Fitzgerald!" Bennett declaimed, appropos of nothing, "now that's my idea of a great singer!" There is none better.


This essay was written for the program book of a Carnegie Hall tribute to Miss Fitzgerald, which took place July 9 and 10th. The concerts and this appreciation were planned months in advance of the event which, sadly, must now function as a memorial.


-- Will Friedwald
Will Friedwald is the author of
Sinatra! The Song is You (1995, Scribner)
and Jazz Singing (1992, Collier Books).



Please note that clicking on the small images on this page leads to a larger JPEG picture of the CD or album cover art. (This is the case with many of the images on this site).


This site rescued by media.org.