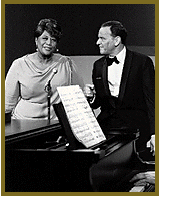 A special fan remembers Ella:
The Lady Was a Champ...
Ella was a sweet, shy girl when we met and she never lost her innocence. Her voice was like a musical instrument -- I adored her wonderful talent and loved the lady.
-- Frank Sinatra
Malibu, California
June 17, 1996



I first saw Ella perform live in Philadelphia at the Academy of Music. It was a touring company of Jazz at the Philharmonic. She shared the bill with Duke Ellington and his Orchestra, Oscar Peterson Trio, Stan Getz, and Zoot Sims. It was unquestionably one of the greatest nights of music I've witnessed. She closed the show being backed equally by Duke's band as well as the Trio. I saw her many times after that including several appearances with Frank at the Uris in New York, and also The Spectrum in Philly. The last time I saw her was in the mid-80s at Resort's International in Atlantic City. Her opening act that evening was Henny Youngman. I thought this to be one of the oddest pairings in Show Biz history. That night, as in every other that I was exposed to her magnificent gifts, I thought of Noel Coward's oft-quoted remarks about Frank Sinatra. He said, " never once a breach of taste, never once a wrong move."

She will be missed.

Rick Apt
Rick Apt's Sinatra Collectibles

A Question:
your site says Ella was born in 1917...
I have a couple of jazz books which
both claim she was born on 4/25/1918
in Newport News. What's the deal?
Marty Lucas
Becknell and Lucas
Ella's press office always said 1918,
but Stuart Nicolson (who did the book
on her) went and found her birth
certificate, which said 1917. So, all
the books and articles that came out
before 1993, when Stuart's book came
out, were traditionally wrong.


I was driving from the shore (I was near the former summer home of Grace Kelly) winding down Route 539 in Central Jersey on my way to my boyfriend Skitch's house.....there I was, trying to tune in WQEW, New York, (Sounds of Sinatra just ended) and then I heard the familiar strains of "Manhattan"......and then I heard that Ms. Fitzgerald died.


I realized that I have had a lot of life events on days of passing or birthdays of my great, "personal folk" heros....I was married on 10/14/77, the day Bing Crosby died..........I saw Rosie Clooney on tv that night and cried.....I was married again on December 12, 1987, the day Mr. S. turned 72........and I'm thinking, its now June 15, 1996 and Ella dies and its my 40th birthday.


In my mind's eye, as I feel age creeping on ever so slightly, and hear peers say "You don't look it, Ab!!", I hear the strains of "everything happens to me" in my mind's eye. I think of my Dad, and I how I literally stole and hid the five-album "Ella Fitzgerald sings the George and Ira Gershwin songbook" in my bedroom, playing them on my webcor record player almost endlessly..... and I realize now more clearly than ever that Ella, Nelson, Frank and Rosemary taught me that I had a voice, and maybe its a "sign" in itself that I had better use it, or hell, I am going to lose it.


Its 32 years later, but Ella will live on as the "First Lady of Song" forever..... past CD's, past cable, past the internet, way past the year 2000. The voice she owned was an instrument, but the phrasing simple. That's all. Like Mr. S.; maybe he's not "the greatest singer on the planet", no, but giving us reason to be here, 'communicating' like the phrasing, it says it all. Period.


"I could tell you a lot, but you've got to be true to your code, so one for my baby.......and one more.....for the....road."


Abbe Buck
Songs Of A Bygone Era

This morning I heard two songs of Ella's on the radio: "Ella Hums the Blues" and "One Note Samba." On both of these she practically scats the whole song. Absolutely incredible and "too marvelous for words."


What a major loss. Besides the songbooks I always find myself playing the albums with Louis Armstrong, and it reminds me of the giants who have been (and are) in our presence. I agree that we are fortunate to live in this time, for it seems we are passing through the end of an era, the end of the classical period of both the American Popular Song and its foremost interpreters. May the recordings live on forever.


Dana LaFontaine

God bless you for putting together a memorial site for Ella Fitzgerald. I feel that I have lost a loving, doting aunt who would shower me with attention and goodness. I am glad to see that I am not the only person feeling a great sense of loss - to the national media, it seems as if nobody big had died. But five minutes of listening to the Cole Porter songbook should tell anyone that we (and the world) lost a national treasure.


Richard Engel



This site rescued by media.org.