The Fans Remember ELLA...
PAGE 1 | 2 | 3 | 4 | 5 | 6 | 7 | 8 | 9 This section is a place where everyone can share their reminiscences about Miss Fitzgerald. If you have a fond memory you would like to share, please e-mail it to us. We're eager to hear your comments and memories regarding the First Lady of Song, and will publish it on these pages for posterity.

---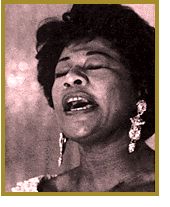 Her song will be
in my mind...
for the rest
of my life.

I first began to appreciate Ella in the late 50's when a college fraternity brother would play the Cole Porter and Rogers and Hart songbooks late into the weekend nights. In the 60's, I first heard Ella live at the Crescendo in LA -- and later at the Hollywood Bowl. I was able to attend more of her live concerts in the 70's in Pittsburgh and, by then, I was building up quite an album collection too.


With the Verve re-releases, I eventually compiled a complete set of her Songbooks and about 15 others albums on LP and cassette. My all time personal favorite numbers by Ella: "Blue Skies," "Of Thee I Sing" and "April in Paris." Recently, I came across the 1993 biography of Ella by Stuart Nicholson and am reading it now. As he describes some background info on Ella's early recordings, I'm able to find most of these songs in my collection, take another listen and gain added insights from Nicholson's book.


I was born about the time Ella began singing with Chick Webb's band, so I've been listening to her throughout my adult life. It still amazes me that her career was already two decades old when I was that age. The many hours I've spent listening to the First Lady for more than 40 years have been among life's great pleasures for me. God hands out a gift like hers very rarely -- we are privileged that she lived in our time!

Gerald Parker
Aiken, SC

I have spent the last 3 weeks immersed in Ella's music, especially the Cole Porter Songbook. There is SIMPLY NOTHING LIKE THIS in music, really! I am nearly in tears when she sings "I love Paris" or "I concentrate on you"...The last time music touched me like this was the Beatles. I am 26 and supposedly, ought to be listening to grunge or metal or whatever...But this is as good as it gets.
Its delightful, its delicious, its our Ella!

Cara Ella, la Tua voce mi ha accompagnato per tutta la mia vita. Tu per me sei sempre viva perche' ascolto la tua voce ogni giorno

Filiberto Bassani
With love, Paolo from Padova, Italy

OH! LADY BE GOOD - Memories of Ella
As a relatively young fan of Ella, I have not been graced with the many opportunities to see her in concert or to have the experience of buying a new release, but her power transcends all. She has brought us all joy in some way. Do you remember these?
THE JOYS OF ELLA
The first time you heard the Ella and Louis Again "Stompin at the Savoy" track and could not help smiling? The first time you heard the Decca studio version of "Mr.Paganini" with Sy Oliver's Orchestra and got the feeling of being in a concert hall alone with her? The first time you heard "Stompin at the Savoy " and "How High the Moon" off of the "Opera House" album? The first time you heard "When Your Lover has Gone" and wondered why she didn't win the Grammy in every category? The first time you saw her on TV? The time you laughed with her on the "Mr. Paganini" track when that German fan yelled just at the right time on "Ella Returns to Berlin" The awe you experienced listening to the first five tracks of "Ella at Duke's Place"
REMEMBERING HER
We all remember her in our own way, but most of us play her recordings over and over and over again. The best way to remember her is to urge her labels to RE-RELEASE EVERYTHING! (Uh, MCA Where are you?) Her passing has made every bird sing a little softer, every tree whisper a little quieter, every sunrise a little more sentimental, and every music store a little emptier. She is missed!

Being an unshakable fan for some years now, I was truly saddened by the death of such a beloved artist, an artist of such statue. But having places to visit, like your page, will surely keep the memory alive, along with the songbird's music.
Thanks for the effort. It is extremely appreciated.

Robert Cutchins



This site rescued by media.org.