The Fans Remember ELLA...
PAGE 1 | 2 | 3 | 4 | 5 | 6 | 7 | 8 | 9 This section is a place where everyone can share their reminiscences about Miss Fitzgerald. If you have a fond memory you would like to share, please e-mail it to us. We're eager to hear your comments and memories regarding the First Lady of Song, and will publish it on these pages for posterity.

---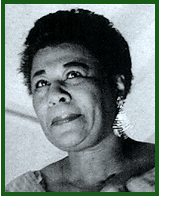 I was close enough to look into her eyes ...

wow

...

IT was all there ...
Louis, Chick, Duke, Basie, the Apollo,

IT was all there.

I remember one time in particular when we saw Ella at The Mondavi Winery. It was a boiling hot Sunday. I stayed up until 3:30 in the morning the night before to make a huge banner. It said "ELLA POWER" it was 5'x 12'. It took six of us to hold it up.


She didn't see it at first and then the bass player and the piano player got her attention and she interuppted her song to say thank you,and I knew she really meant it. It was wonderful to be able to communicate with her, and to have her respond was more than a person could hope for. However, somone from Mondavi's staff arranged to have her autograph it for me. I was thrilled,and it was one of my most cherished things I owned until I lost it due to a house fire.


Another interesting thing happend that day. I was concerned there were so many young people in a group near us, and they were clearly there to party hardy. They were talking all through the opening group, and I thought we were going to have trouble with them. However, when she started to sing I could hear some of the kids say,"SHH SHH! - hey she can really sing". It did my heart good to see Ella win them over so quickly. And I might add they were relatively well behaved.


I fell in love with my husband while listening to Ella sing "But Not For Me"... and that was 36 years ago she will be in my heart and in my prayers as long as I live.
Thanks for giving me a place to say what's in my heart.

Joanna King

That there is recorded black music in America...
When, in 1975, WTTW in Chicago produced a show devoted to John Hammond's career, he recounted how Fletcher Henderson had invited him up to his flat in Harlem. There in the kitchen was a small entourage of the greats of the New York jazz scene. They had assembled to help audition a "skinny young" woman blues singer with the hope that Hammond would sign her to a Columbia records recording contract.
Hammond heard and, although he thought she was marvelous, he told Fletcher, "I have Ma Rainey, Bessie Smith and Billie Holliday, I just can't use another female blues singer. And so I missed recording Ella Fitzgerald. . .

I am a female college professor who has LOVED ELLA for as long as I can remember...I can recall when I was in highschool, in the 60's, that my favorite singer was Ella...through the years, her singing continued to enthrall me. My only regret is that I was never able to attend a concert ...an article my Dad gave me not too long ago, from the "Wall Street Journal", paid tribute to her and informed her fans of her physical condition; it was very poignant and reinforced in me how magnificent she was. In my opinion, the racism that existed in her early years created an awareness in many people that transcended that ignorant state, as her fans loved her and her music. She will be forever remembered, and I feel that I have truly lost a special part of my life.
GOD BLESS HER...
Dr. Kristin Lee Vermillion
Oklahoma City

Ella was a great influence on my life and still is. I first heard her on the radio. Her voice had a vibrance no musical instrument could take the place of. I knew then and there I would "collect" her music and listen to it forever, for my children to listen to and perhaps their children. I was devastated when I heard about her apssing, but yet happy, happy because I had known she was suffering with the pain of diabetes, which she lost both of her legs to. However she will always be that special musical selection I choose. Whether it be relaxing or reminiscing, her music is first choice to me.
Thanks for the golden years Ella,



This site rescued by media.org.