The Fans Remember ELLA...
PAGE 1 | 2 | 3 | 4 | 5 | 6 | 7 | 8 | 9 This section is a place where everyone can share their reminiscences about Miss Fitzgerald. If you have a fond memory you would like to share, please e-mail it to us. We're eager to hear your comments and memories regarding the First Lady of Song, and will publish it on these pages for posterity.

---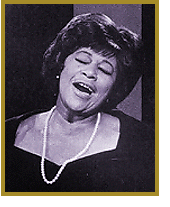 The greatest heart that
ever sang is still with us,
beating in all the kinds of
music you can think of.

Am I wrong?

Or Aleksandrowicz
Tel Aviv, Israel

I was born 20 years after the first songbook was released -- and Ella was already near 40 when that collection of Porter was originally issued. Yet she, more than any contemporary self-help guru or self- proclaimed relationships expert, taught me what romance (in a perfect world, anyway) should be like.


Never cynical, never world-weary, never jaded...Ella Fitzgerald's voice spoke to the innocent romantic in all of us. "Like Someone in Love"..."Someone to Watch Over Me"..."Midnight Sun"...these songs of gentle passion couldn't hope for sweeter, less complicated readings.


She was a scat virtuoso, yes, but her underrated talent as a skillful ballad sculptress was no less profound. The obvious delight she took in swinging and scatting through "How High the Moon" is matched by the sense of wonder she brings to "Misty," or the joyous declaration of "Come Rain or Come Shine," or the poignancy (but not bitterness) of "'Round Midnight."


She had no equal; among her contemporaries were some spectacular talents, but none could top her. Where Sarah Vaughan's roccoco embroiderings and operatic trills made her an imposing, remote diva, and Billie Holiday's burnished voice bespoke the pain of life, Ella reveled in the joys of life.


She sang, simply and directly, from her heart--her talent was, paradoxically, both awe-inspiring and intimate, astonishing and approachable. One cannot listen to her without feeling happier for the experience.

Thank you, Ella, for the love.


Todd Brandt

What can I say, other than with a 1000+ CD collection built up over many years, there's no doubt that if my house caught fire, I'd just grab Ella's Songbooks box and run.
Thanks, Ella, for the timeless warmth and beauty of your voice!

Ton Paans
London

I did a radio interview with Ella --
not before or since have I known
anyone in this biz sweeter than she...

Sandy Singer
A Date With Sinatra

I first got turned on to Ella Fitzgerald at the most unlikely of events: a concert by the rock group Queen.


At the end of a number called My Melancholy Blues, the group's lead singer, a flamboyant fellow named Freddy Mercury asked the audience, "How did you like my impersonation of Ella Fitzgerald". I thought to myself "I'd probably like listening to Ella better", although I never had, besides the Memorex commercials.


So shortly after that concert, I went out and bought an LP of Ella's greatest hits. The first song was "A Tisket, A Tasket". I was hooked.


I bought everything I could with Ella on it. I agree with others who enjoy her work with Louis Armstrong and the Verve songbooks, which brings me to another great memory. The first of the songbooks I owned was the Cole Porter songbook, which I purchased during a vacation in New York, at a neat little record shop in Greenwhich Village.


Over the last 15-18 years, I have derived enormous leasure listening to Ella. I had the great pleasure to see her perform twice, once at the Imperial Room of the Royal York Hotel, a venue which has been closed for a few years but which was ideally suited to Ella's voice.... and her personal style.


All of us who've followed Ella's career have known we could never see her again. But when Ella died, it affected me in a way that I didn't expect.


I'm sad she's gone but she's left a legacy of recordings that will entertain me and, I hope my children, for years to come.


Michael Kurts
Toranto, Ontario

I never will forget the first time I ever heard Ella Fitzgerald sing. It was on The Sammy Davis Jr. Tribute to 60 years of Show Business special. Wow what a lady and voice. I had often heard about her when I was young but seeing that I am only 23 I never really heard her sing. She was a great woman and a legend that will never be forgotten.


Heath Watson
Bolivar, Missouri



This site rescued by media.org.