The Fans Remember ELLA...
PAGE 1 | 2 | 3 | 4 | 5 | 6 | 7 | 8 | 9 This section is a place where everyone can share their reminiscences about Miss Fitzgerald. If you have a fond memory you would like to share, please e-mail it to us. We're eager to hear your comments and memories regarding the First Lady of Song, and will publish it on these pages for posterity.

---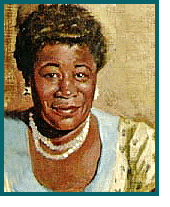 The magnificent songstress.
The most complex musical
instrument ever created under
God's heaven is the human voice,
and I have never heard anyone
play that instrument more
beautifully than Ella.

I am 24, a Chinese living in HK. The first time I heard Miss Fitzgerald's records was at a friend's house, playing "Bewitched". I was about 16 at the time. I thought to myself: "Can such a voice, or such diction exist?" Later on, I really believe that she more or less put the word `diction' into the dictionary. Basically snatching the album from my friend, I listened to it over and over again by myself, ignoring time passing by. When I noticed the album cover, I did not even think that was a drawing of her initially because I can only match her voice with some one who looked like...an angel. (Honest to God, this is in no way meant to be insulting to Miss Fitzgerald)


Later on, I bought most, if not all, of her albums. And, that was when I realized that Miss Fitzgerald excelled in all kinds of singing--slow songs, fast songs, scat singing, etc. She makes me crawl down to the local library to read all about her. And, her album with Louis Armstrong is constantly being played. If I turn off the lights and listen to their duets, it is heaven on earth.


Reading more about her, I come to genuine respect for Miss Fitzgerald--not just her talent, but her total commitment for music. Working herself to the hilt for well over 50 years can only be because of passion.


I only knew about her passing away because I emailed my friend, writing about a comment some one made that:


Ella Fitzgerald can sing right out of the telephone book and STILL make it sound fantastic.


Then, my friend told me the news. I thought I will not be devastated--but I was and even shed tears.


If there is such a phrase as "Dignified American Music", she will be the icon for it. She is one of the greatest artists in this century. We will always miss you and I just know your music will linger on, well into the next century.


Richard Lee

No words could express my sorrow.
I could only say her voice was really
a God's gift. Thank you Ella.

Fabio

I was a just a kid in high school during the early forties and lived in DeKalb Illinois, about 60 miles southwest of Chicago. On my first solo venture to the windy city, I saw the name Ella Fitzgerald on the marquee of I believe the Chicago theatre...appearing live. I was about 15 years old and didn't know who Ella Fitzgerald was, but the movie that was playing was one I wanted to see and I purchased a ticket. After the movie was completed, the stage lights came on, and a man appeared from the wings. He introduced Ella, the orchestra started to swing, and...there she was! It was my first exposure to scat, my first exposure to jazz...I was in love!


I have never stopped listening to Ella. My kids, especially my oldest daughter, called me in tears when she learned of her death. It is as if we lost a member of our family.


Ella is the last of the great ones. Carmen is gone, Sarah is no longer with us, Billie left a long time ago. I guess there is some consolation that the man above at least saved the best one for last. I am going to miss her very much.


Bob Larsen

I heard Ella sing for the first time when I was 6 years old in Toronto. My family were only opera lovers/classical and when I heard her sing on a recording my life and love of music changed. I am now 51, and went to the opening of the Jazz Festival in Vancouver to hear Diana Krall sing her tributes to Ella, that she will sing in New York on July 9th.
I will be there in spirit, and bless the day we were given the great Ella!

Ann Coombs

I've noticed that as in life, we've move on, past the mourning, to weddings and divorces and (other) mistakes. But Time Magazine arrived today with a tribute to Ella entitled "The Voice of America". Up until this point I had envied your tears (real men eat quiche and do cry) while remaining dry-eyed. But when Time writer Jay Cocks wrote: "At 16, dressed in cast-off clothes and wearing men's boots, she won an amateur-night contest at the Apollo theater," I found the flood. It was easy to imagine this shy teenager, poor, abused and an "old ugly thing" (Chick Webb's words), who had created so much beauty and happiness with her voice. --And I found myself doubting such a miracle could ever happen again in the society which has evolved into today.


Beverly Elander



This site rescued by media.org.