The Fans Remember ELLA...
PAGE 1 | 2 | 3 | 4 | 5 | 6 | 7 | 8 | 9 This section is a place where everyone can share their reminiscences about Miss Fitzgerald. If you have a fond memory you would like to share, please e-mail it to us. We're eager to hear your comments and memories regarding the First Lady of Song, and will publish it on these pages for posterity.

---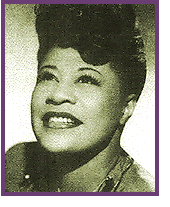 Dear Ella...

a special first lady of song
Dear Ella...


you gave us your best for so long
Dear Ella...


we're so glad you answered your call
Dear Ella...


it's certain you and your music will stand


so tall that its a blessing to us all
Kenny Burrell
Lyric composed and sung by the guitarist in honor of Ella at the Carnegie Hall Tribute
July 10, 1996

Dear Ella Fans:
My name is Gregg Field. Some of you might know me as I have been playing drums with Frank Sinatra for the last 5 years. I met Ella in 1980 when I was working with Basie. Ella hired me in 1985, and I spent nearly two years with her until she had her heart attack in 1986.


We called her sis. She was the most gracious artist that I ever had the pleasure to work with. I stayed in touch with her, but the last few years, as you know, were pretty rough. In 1993 the producers of the Frank Sinatra album Duets asked me to contact Ella and inquire as to weather or not she would like to do the duet on Mack the Knife. I was very saddened to learn that Ella's health would prevent her from singing.


My fondest memory of sis is her singing happy birthday to me on my 30th birthday. I am so grateful for my time with her.
Thank God for Ella...We'll all miss her.

Love to all of you...


Gregg Field

Oh boy, Ella! The first time I heard a tape of Ella, she made me laugh through the Lorelei and her grrrrrrrreat rendition of Mack the Knife where she forgot the words! Since then I've been laughing and crying and sighing over her and her voice and everything else about her. I am so lucky to have seen her three times in the last 10 years! Yummmmm!
Good night, Ella, and thank you!

Ella Concert in Concertgebouw Amsterdam:
I was a kid in the Air Force - the Dutch Air Force. Had saved my meagre wages for weeks to see Ella. Lucky me........ 2nd row. I had to be the happiest guy!

The trio was great - always was! A-tisket, A-tasket was the next song and Ella jumped in her skad - After a dozen or so masterful notes she saw me! I know - she saw me! She looked at me - smiled at the kid with the Airforce uniform and without missing a bit or upsetting the appelcart for the trio she suddenly threw in a few lines of: Come Fly With ME!

I thought I died - what a way to go..... Ella - I don't recall if you did find that "Yellow Basket". Ella - thanks......... thinking of you makes "Blue Skies".

I grew up listening to Ella although at the time I didn't even realize it. My father is a huge jazz fan (especially Louis) and I would often come home late (from another rock concert) to find him listening to Ella and Louis because he couldn't sleep.


I have a fairly high stress job and a couple of years a go I found myself pulling all-nighters at work. I often slept there and found myself being lullabied to sleep by Ella's sweet voice in my ear.
Like father like son.

She will be missed...

The pure and enchanting celebration of Ella Fitzgerald's voice has been part of my life since I can remember. I was part of a special wake tribute to Ella in Sydney Australia recently and my, how many people in this world have been devoted to the Lady of Jazz and have danced, sang at the tops of their lungs and sat by warm romantic fires only to listen to that powerful yet sweetly intense voice. We love and remember you from down under!




This site rescued by media.org.